Posted in
Music
on 05/08/2009 01:40 pm by snf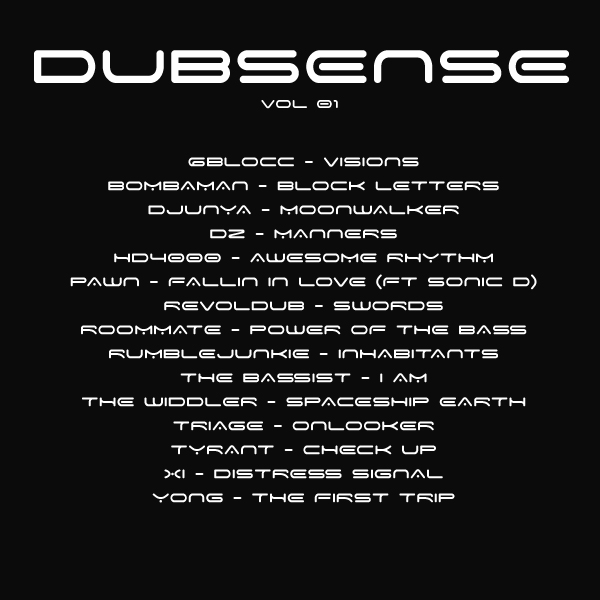 Out today on dubstep records run by DopeLabs of dubstep.fm is a 15-track comp featuring different sounds of dubstep artists from the US and Canada.  Many heavy hitters on this tracklist so I'm just going to pick a few tunes that stood out for me to feature.  On the whole it's solid, check out previews of all tracks on dubsteprecords.com.
Ric Bakir of Big Up and Dubs Alive also wrote a nice review which you can find here.
Djunya - Moonwalker
My favorite on the comp (though the others posted here are close) is this off-key tune from Djunya.  It's reminiscent of recent productions by folks like Starkey, Jamie Vex'd, Dusk & Blackdown, Noah D, and others producing wonky sounding dubstep.  Big look.
Audio clip: Adobe Flash Player (version 9 or above) is required to play this audio clip. Download the latest version here. You also need to have JavaScript enabled in your browser.
Deep riddims:
Tyrant - Check Up
Audio clip: Adobe Flash Player (version 9 or above) is required to play this audio clip. Download the latest version here. You also need to have JavaScript enabled in your browser.
XI - Distress Signal
Audio clip: Adobe Flash Player (version 9 or above) is required to play this audio clip. Download the latest version here. You also need to have JavaScript enabled in your browser.
Yong - The First Trip
Audio clip: Adobe Flash Player (version 9 or above) is required to play this audio clip. Download the latest version here. You also need to have JavaScript enabled in your browser.
Wobbly riddims:
Bombaman - Block Letters
Audio clip: Adobe Flash Player (version 9 or above) is required to play this audio clip. Download the latest version here. You also need to have JavaScript enabled in your browser.
Pawn - Fallin In Love (ft Sonic D)
Audio clip: Adobe Flash Player (version 9 or above) is required to play this audio clip. Download the latest version here. You also need to have JavaScript enabled in your browser.
The Widdler - Spaceship Earth
Audio clip: Adobe Flash Player (version 9 or above) is required to play this audio clip. Download the latest version here. You also need to have JavaScript enabled in your browser.
Buy it here:
Tags:
6blocc
,
bombaman
,
djunya
,
dopelabs
,
dubstep records
,
dubstep.fm
,
dz
,
hd4000
,
pawn
,
revoldub
,
roommate
,
rumblejunkie
,
the bassist
,
the widdler
,
triage
,
tyrant
,
xi
,
yong